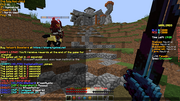 Crusader (Paladin)
Edit
Health: 5500
Energy: 250
Energy Regen: +20/sec
Energy Per Hit: +20
Damage taken: -20%
Cost: 5000
The Crusader is the defensive-oriented Paladin specialization (in Warlords ) , it still deals respectable damage but has the highest possible base health, at 7800, making him the supreme tank, he also functions as a lesser energy/health restorer. He will be nerfed in future updates as this is definitely the most overpowered class in the game.
Crusader's Strike Edit
Energy Cost: 90
Crit. Chance: 15%
Crit. Multiplier: 150%
Strike the targeted enemy player, causing 326 - 441 damage and restoring 20 energy to two nearby allies.
Consecrate Edit
Cooldown: 10 Seconds
Energy Cost: 50
Crit. Chance: 10%
Crit. Multiplier: 175%
Consecrate the ground below your enemies feet, declaring it sacred. Enemies standing on it will take 120 - 162 damage per second and take 15% increased damage from your paladin strike. Lasts 5 seconds.
Light Infusion Edit
You become infused with light, restoring 100 energy and increasing your movement speed by 20% for 6 seconds.
Holy Radiance Edit
Cooldown: 25 Seconds
Energy Cost: 60
Crit. Chance: 10%
Crit. Multiplier: 150%
Radiate with holy energy, healing yourself and all nearby allies for 582 - 760 health.
Inspiring Presence Edit
Cooldown: 1 Minute 30 Seconds
Your presence on the battlefield inspires your allies, increasing their energy regeneration by 10 per second and their movement speed by 25% for 8 seconds.