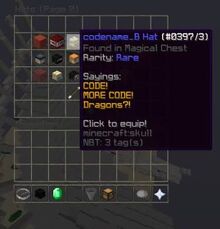 Hats are cosmetic items found in Mystery Boxes, during special holiday events, and by reaching Achievement Milestones in the Hypixel network. There are 2 diffrent types of Hats, Standard and Animated. Standard Hats are cheaper and easier to collect then Animated Hats. Animated Hats can also move. Every donator rank gets 4 Animated Hats. To choose a hat, click on the chest called Collectibles and then click on the diamond helmet. There are 126 Standard Hats and 42 Animated Hats (Total of 168 Hats) .
List of Standard Hats
Rarity
Name
Mystery Box Type
Common
Polar Bear 
Regular
Koala
Bird
Bee
Clownfish
Ferret
Walrus
Monkey
Cactus
Burger
Monitor
Beach Ball
Duck
Earth
A
B
C
D
E
F
G
H
I
J
K
L
M
N
O
P
Q
R
S
T
U
V
W
X
Y
Z
0
1
2
3
4
5
6
7
8
9
+
#
?
!
Snowglobe
Toaster
Egg Head
Sandwich
Cheese
Mars
Penguin
Elephant
Rare
Squid
Horse
Astronaut
Clown
Groopo
Shibe
Elf Princess
Otter
Dinosaur
Mummy
Orc
Minotaur
Demon Knight
Scavenger
Golden Knight
White Wizard
Miner
Football Star
Monk
Wood Elf
Dread Pirate
Odin
Assassin Villager
Alien Slug
Ghost
Scarecrow
Egyptian Queen
Mage
Fox
Rainbow Glitch
Skull
Halloween
Pig Zombie
Ghast
Candy Cane
Holiday
Ginger Bread Man
Red Bauble
Holiday Present
Turtle
Regular
Hp8
Frog
Parrot
Pug White
Pug Black
Owl
Panda
Duckling
Sloth
Gorilla
Magic Dog
Lucky Dragon
Shibe
Hypixel H
Epic
Evil Pumpkin
Halloween
Marionette
Snowman
Holiday
Reindeer
Legendary
Ender Steve
SkyWars Ranked reward
Gift Giver
25 Gift Milestone reward
List of Animated Hats
Rarity
Name
Mystery Box Type
Rare
Aqua Orb
Summer
Basketball
Fire Demon
Forester
Ice Mage
Robo Bird
Siren
Traffic Light
Space
Werewolf
Halloween
Scarecrow
Elf Boy
Holiday
Elf Girl
Sammy the Cookie
Advent Calendar  2017
Joe the Penguin
Comet the Reindeer
Epic
Golem
Summer
Broken TV
Bauble
Holiday
Gingerbread Man
Legendary
Evil Eye
Summer
Clown
Halloween
Santa
Holiday
Vintage Astrochiever
Achievement Rewards
Points Eater
Unlock Machine
Donator: VIP
Fox Spirit
None
Monochrome Girl
Scarf Guy
Cyborg Girl
Donator: VIP+
Herobrine
Chroma Slime
Happy Dude
Blushy
Donator: MVP
Scout Girl
Flower Crown
Red Overall
Blue Hoodie
Donator: MVP+
Ender Pulse
Rainbow Girl
Demon Eyes
Derpy Eyes
Community content is available under
CC-BY-SA
unless otherwise noted.