Party Games 3 are a part of the Arcade Games. There are 8 games: Frozen Floor, Jigsaw Rush, The Floor Is Lava, Spider Maze, Fire Leapers, Jungle Jump, Cannon Painters and Hole in the Wall.
Like the other party games, these are split to a pack of minigames too.
Frozen Floor
Edit
Be the last man standing by knocking other players out using your Snow Balls! But keep an eye on the icy floor, as it might be melting under your feet!
Jigsaw Rush
Edit
You said you like puzzles? Test your abilities and speed recreating the pattern given using the different blocks provided in your inventory, be the fastest and enjoy your victory!
The Floor Is Lava
Edit
Test your concentration and your skills by keeping up a good rhythm to beat this fast-paced parkour! Make sure you don't fall to the lava, or else you will burn to ashes!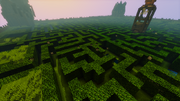 Spider Maze
Edit
Spooky, spooky! This game will bring out your deepest fears! Beat the maze and get to the safe tower in the middle, but beware, something terrifying will be hunting you down!
Fire Leapers
Edit
You're trapped in a room surrounded by fire and burning smoke coming at you! What to do? Take advantage of the jump boosts you have to avoid getting burned! The more successful jumps you make, the more points you will get!
Jungle Jump
Edit
Another take on fast-paced parkours! Jump up, jump down, move left and right to beat it! If you fall… well, I've got some bad news for you.. :P
Cannon Painters
Edit
Go wild guys! Colouring a canvas with eggs is fun, so shoot as many as you can to fill the board with your colour and proclaim yourself victorious!
Hole in the Wall
Edit
Match the pattern in the wall as it moves towards you, using blocks in your inventory. Hole in the Wall is also a full minigame in the Arcade Games lobby.
Party Games 3 were announced few hours before official release via Twitter.
Getting first place gives you 125 Arcade coins
Party Games 3 is known as being highly luck-based because Hole in the Wall and Fire Leapers almost always end in three-way ties. Jungle Jump and The Floor Is Lava almost always end in the top three players finishing within milliseconds of one another.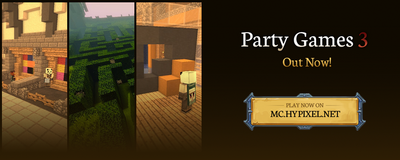 | Date | Content |
| --- | --- |
| Oct 7, 2015 | Released Party Games 3. |