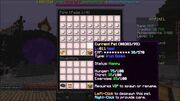 The following article is still a work in progress.

What is being worked on?

Add feeding and adventures.

Work-in-progress pages are automatically sorted into this category.

  
"Collect, feed, and play with your favourite pets! Level them up by taking care of them!"
Pets are purely cosmetic mobs that can spawn with you in lobbies. You may feed your pets, and send them on to missions to get experience. One of the way to get items to care for pets is by opening any Mystery Box. It is required that players must be a VIP to spawn their pets in the main lobbies. There are 112 total pets to collect. It has been previously said by admins that they are working to bring pets to housing so non-donors can access their pets.
Common Pets
Edit
Name
Cost (Mystery Dust)
Mystery Box Type
Favorite
Food
Drink
Exercise
Cow
10
Regular
Wheat
Milk
Feather
Chicken
10
Flower
Water
Frisbee
Wolf
10
Bone
Water
Leash
Pig
10
Water
Frisbee
Silverfish
TBA
Water
Stick
Zombie
12
Rotten Flesh
Lava
Sparring Sword
Cat Black
12
Raw Fish
Milk
Ball
Cat Red
12
Raw Fish
Milk
Ball
Cat Siamese
12
Raw Fish
Milk
Ball
White Sheep
TBA
Wheat
Water
Leash
Grey Sheep
TBA
Wheat
Water
Leash
Silver Sheep
12
Wheat
Water
Leash
Horse Brown
15
Apple
Water
Leash
Rare Pets
Edit
Name
Cost (Mystery Dust)
Mystery Box Type
Favorite
Food
Drink
Exercise
Zombie (Baby)
30

Regular

Pig (Baby)
30
Cow (Baby)
30
Cookie
Milk
Ball
Wolf (Baby)
30
Chicken (Baby)
30
Milk
Stick
Cat: Red

 (Baby)

30
Cat: Black

 (Baby)

30
Cat: Siamese

 (Baby)

30
Horse: Brown

 (Baby)

30
Sheep: White

 (Baby)

30
Sheep: Gray

 (Baby)

30
Sheep: Brown

 (Baby)

30
Milk
Frisbee
Sheep: Silver

 (Baby)

30
Sheep: Orange
20

Sheep: Magenta

20

Sheep: Light Blue

20

Sheep: Yellow

20

Sheep: Lime

20

Sheep: Cyan

20

Sheep: Purple

20

Sheep: Blue

20

Sheep: Green

20

Sheep: Red

20
Villager: Farmer
22

Villager: Librarian

22

Villager: Priest

22

Villager: Blacksmith

22

Villager: Butcher

22
Mule
22
Horse: Creamy
25

Horse: Chestnut

25

Horse: Dark Brown

25

Horse: Gray

25
Donkey
27
Water
Leash
Cave Spider
27
Slime (Tiny)
30
Rabbit: Black
22
Rabbit: Brown
22
Rabbit: White
22
Epic Pets
Edit
Name
Cost (Mystery Dust)
Mystery Box Type
Favorite
Food
Drink
Exercise
Sheep: Pink
55
Regular
Wheat
Water
Leash
Horse: Creamy (Baby)
55

Horse: Chestnut (Baby)

55

Horse: Dark Brown (Baby)

55

Horse: Gray (Baby)

55
Villager: Farmer (Baby)
55

Villager: Librarian (Baby)

55

Villager: Priest (Baby)

52

Villager: Blacksmith (Baby)

55

Villager: Butcher (Baby)

55
Lava
Sheep: Orange

 (Baby)

55

Sheep: Magenta

 (Baby)

55

Sheep: Light Blue

 (Baby)

55

Sheep: Yellow

 (Baby)

55

Sheep: Lime

 (Baby)

55

Sheep: Cyan

 (Baby)

55

Sheep: Purple

 (Baby)

55

Sheep: Blue

 (Baby)

55

Sheep: Green

 (Baby)

55
Milk
Frisbee

Sheep: Red

 (Baby)

55
Magma Cube (Tiny)
30
Bat
37
Water
Sheep: Black
40
Spider
42
Horse: White
42
Horse: Black
42
Pig Zombie
50
Skeleton
50
Mooshroom
50
Mushroom Soup
Milk
Feather
Villager: Zombie
52
Creeper
52
Undead Horse
63
Slime (Small)
63
Magma Cube (Small)
63
Magma Cream
Lava
Ball
Rabbit: Black & White
45
Rabbit: Gold
45
Rabbit: Salt & Pepper
45
Witch
N/A
Halloween
Pumpkin Pie
Milk
Green Little Helper
N/A
Holiday
Cake
Milk
Ball
Red Little Helper
N/A
Legendary Pets
Edit
Name
Cost (Mystery Dust)
Mystery Box Type
Favorite
Food
Drink
Exercise
Mooshroom (Baby)
90

Crafted Mystery Box #1

Pig Zombie (Baby)
85
Sheep: Pink (Baby)
75
Milk
Sheep: Black (Baby)
75
Blaze
N/A
Powered Creeper
N/A
Lava
Sparring Sword
Herobrine
N/A
Endermite
N/A
Crafted Mystery Box #2
Skeleton Horse
N/A
Halloween
Snowman
N/A
Holiday
Sheep: Rainbow
N/A
Summer
Wither Skeleton
N/A
Can not be found yet.
-
-
-
Slime (Big)
100
Regular
Milk
Ball
Magma Cube (Big)
115
Magma
Lava
Enderman
150
Milk
Golem
200
Flower
Lava
Ball
Other Pets
Edit
Name
Cost (Mystery Dust)
Mystery Box Type
Favorite
Food
Drink
Exercise
Wild Ocelot
VIP+
Not found in Mystery Boxes
Wild Ocelot (Baby)

VIP+

Not found in Mystery Boxes

Raw Fish
Milk
Leash
Squid
Promotional Offer with MCProHosting

Not found in Mystery Boxes