The following article is still a work in progress.

Work-in-progress pages are automatically sorted into this category.

  
This is the main page for Turbo Kart Racers. To find more articles of this category, click

here

.
"
Turbo Kart Racers is a fully fledged racing game inside Minecraft which puts you in the driver seat in a furious race against 11 other players. During the game you can pick up boxes that give you certain advantages in the race.

The game has 15 different kart skins to choose from; you can customize and upgrade your kart with different particle trails, sounds, engines and more!

"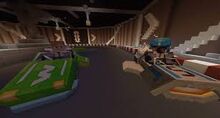 Gameplay
Resource Pack
The Resource Pack in Turbo Kart Racers is completely custom, adding an extremely large amount of changes to Minecraft's regular textures. The Karts and racing gear have been designed by Sphax, who is most known for his work on the Sphax PureBDCraft texture pack. The filesize of the resource pack is about 1.4MB. If you experience lag or frame rate drops, visit the thread on the Turbo Kart Racers Resource Pack for more info.
Particles
Particle Quality
Particle Quality is an option in the shop (represented by a Nether Star) that allows the player to choose the amount of particles present in game. There are 3 choices: Low, Medium, and High. Medium and Low reduces the amount of particles you can see, whereas High shows all particles ingame. If you experience framerate lag, it is recommended that you set particle quality to either "Low" or "Medium".
Particle Trail Selector
The Particle Trail Selector is an option in the bottom right of the shop, indicated by the white-blue particles coming from the bottom right of a square. The particles in question come out from the 'exhaust' of your Kart. This is cosmetic only. All Particles are VIP Rank Exclusive.
Check the Minecraft Wiki for the particles in question.
| Name | Particle | Price |
| --- | --- | --- |
| Rainbowz | Rainbow Explode | 69420 |
| Red Dust | Red Explode | 1000 |
| Hearts | | 3000 |
| Green Magic | | 2500 |
| Purple Magic | | 2500 |
| Flames Trail | | 5000 |
| Slime Trail | Slime | 5000 |
| Lava Burst | Lava | 17000 |
| Dark Smoke | | 3500 |
Item System
Racing System
Trophies
There are three trophies obtained after the game: 1st place gets a gold trophy, 2nd place gets silver, and 3rd place gets bronze. The amount of trophies, and thus leaderboard positions, is described under TKR Statistics.
Custom Parts
Music Selection
Mechanic
Mechanic has not been used since 
Maps
Turbo Kart Racers Shop
Helmet Selector
Rank Required
Name
Price
Default
Race Red Headline
Yellow Stained Glass
Sunset Headline
Pink Stained Glass
Ocean Headline
Light Gray Stained Glass
Amethyst Classico
Oak Fence
Ruby Classico
Green Stained Glass
Ruby Classico
Lime Stained Glass
Emerald Classico
Cyan Stained Glass
VIP
VIP+
MVP
Racing Suits
Kart Customizer
Particle Quality
Junkyard
Shown here are all of your parts, and their stats, not on your kart, and you have the ability to scrap them for coins.
Part Roller
Part Crafter
Horn Selector
Select from 11 different horns that trigger after pressing Space during the game
Rank Required
Name
Price
None
Default Horn
Free
Shy Horn
10000
VIP
Alien Horn
20000
Busy Taxi Horn
20000
Klaxon Horn
20000
VIP+
Tricycle Horn
25000
Road Driver Horn
30000
MVP
Alarm Horn
30000
Kloon Horn
40000
MVP+
Teddy Bear Horn
40000
Truck Horn
50000
Music Selection
Selecting this will allow you to toggle music on and off for the pregame lobby, the end game, and individually for each of the five courses separately.
Kart Skin Selector
Particle Trail Selector
VIP ONLY- Selecting this will allow you to buy/choose 1 of 9 various Particle Trails.
| Name | Cost |
| --- | --- |
| Rainbowz Trail | 21000 |
| Red Dust Trail | 1000 |
| Hearts Trail | 3000 |
| Green Magic Trail | 2500 |
| Purple Magic Trail | 2500 |
| Flames Trail | 5000 |
| Slime Trail | 5000 |
| Lava Burst Trail | 17000 |
| Dark Smoke Trail | 3500 |
Tips & Tricks
General
Offensive
Defensive
Trivia
The game is hard to control for inexperienced players.
Community content is available under
CC-BY-SA
unless otherwise noted.