Jurassic World: Dominion Dominates Fandom Wikis - The Loop
Play Sound

The Hypixel Wiki community and staff can NOT give you any rank listed on the wikia. If you truly want to apply and meet the requirements, please see the applications section of this page.
The YouTube Rank is a special rank on Hypixel given to content creators who meet the requirements. It gives a unique tag with unique perks, a red username color shared with the [ADMIN] rank, and carries over perks from the highest donator rank.
Requirements
In order to apply for the YouTuber rank, content creators must meet the requirements set for their platform and content.
Requirements for YouTube Channels (Including YouTube livestreamers)
30,000 or more subscribers for gaming channels with regular Minecraft content.(Previously was 20,000 or more subscribers)
100,000 or more subscribers for gaming channels with irregular Minecraft content
A reasonable number of views per video (1000 or more views within a few days of release on all videos)
An active channel producing original gaming content regularly
Have uploaded some Minecraft related videos (not necessarily Hypixel Network related)
Requirements for Streamers (Excluding YouTube livestreamers)
30,000 or more followers (or equivalent)

This means default, non-paid tier followers (e.g. followers rather than subscribers on Twitch).

50 concurrent viewers or more on average

This is your average simultaneous viewers on streams, not a one-time peak.

An active and regular streaming schedule

Streaming on a regular and predictable (i.e. scheduled) basis, not on rare and unpredictable occasions.

Ideally, streaming Minecraft content on a frequent and regular basis.

They normally prefer to see channels streaming Minecraft content on a regular basis - though this doesn't need to be the only thing streamed as part of an overall streaming session. Even for channels not producing Minecraft content regularly however, they do usually still want to see at least minimal amounts of recent Minecraft content.
Perks
Application
To apply for the [YOUTUBE] rank, players can submit an application via the email "creators@hypixel.net." It is recommended for players to use the YouTube channel's business email, and include their IGN in the application. More information can be found at https://hypixel.net/threads/youtuber-rank-requirements-and-applications.351480/.
Example of the YouTuber rank: [YOUTUBE] Wiki_Example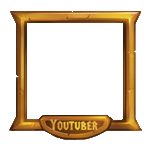 Trivia
Before MVP++ was released, the YouTube Rank prefix had a golden [YT] prefix.
Previously, the YouTube Rank had a permission to use /settheme in Build Battle and Pixel Painters. The command was removed from the rank in Build Battle due to abuse, but the command still works in Pixel Painters.